Content Strategy Team Lead 📺
This job is no longer accepting applications.
Aha Media Group, a content agency, is seeking a Content Strategy Team Lead to join our team.
Here's the job, in a nutshell:
Lead and grow a content strategy practice, including hiring and supervising freelance content strategists
Assist our account managers with SEO and IA projects
Supervise, along with the account management team, large-scale web writing projects
Audit content and provide discovery reports
Create personas, voice and tone guidelines and workflow recommendations
Serve as the content strategy expert within the company
Benefits include:
Four weeks of vacation
IRA savings
Training stipend
Health insurance stipend
100% remote work
Do you have this experience? Or similar experience?
7+ years of communications, writing, editing or publishing experience in a healthcare environment (this could include hospitals and health systems, health insurance organizations, healthcare not for profits or healthcare technology)
Excellent editor and analytical thinker; you know how to look at content like a puzzle and create a structure that readers can understand easily
Highly collaborative; you work well with others and you're willing to take the time to coach team members
Excited to work in a fast paced, decisive environment where you'll have autonomy
Able to successfully work from home and travel domestically where needed
Detailed Responsibilities
Create content strategy products, including content and SEO audits, personas, messaging architectures, voice and tone, competitive gap analyses, website information architectures, editorial calendar creation and other projects
Provide consulting and advise on best practices to internal teams and clients
Support sales by understanding client needs and advising on solutions and potential scopes of work
Communicate complex strategies and technical subjects to stakeholders clearly with enthusiasm
Advise on opportunities for additional content strategy products and services to better serve our customer's needs
Prepare and deliver presentations, workshops or talks to clients and external audiences
Advise and train freelance content strategist
Do you recognize yourself in these values?
We are a fun, fast-paced atmosphere. If these align with your values, you should apply:
Above and beyond, no matter what, every single time: We hire exceptional people and expect them to deliver their very best--every time
Meaningful work, meaningful life: We put in the time we need to get the job done in the best way possible, and then we go home to the people and hobbies we love.
Be impeccable with your words and your intentions: We are respectful and direct communicators who say the things we mean and mean the things we say.
Stay curious longer: We approach every challenge with a fresh perspective and explore new approaches and solutions.
Always be learning: We focus on continuous learning and self-improvement.
If you kept reading this far, you know you want to apply.
Send us a:
Please send your application to careers@ahamediagroup.com
Want to stay freelance?
We are also looking for talented freelance content strategists (B2C, B2B, B2P) to join our team. View the job description and apply today.
Apply
Your application has been successfully submitted.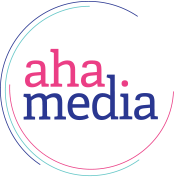 Aha Media Group